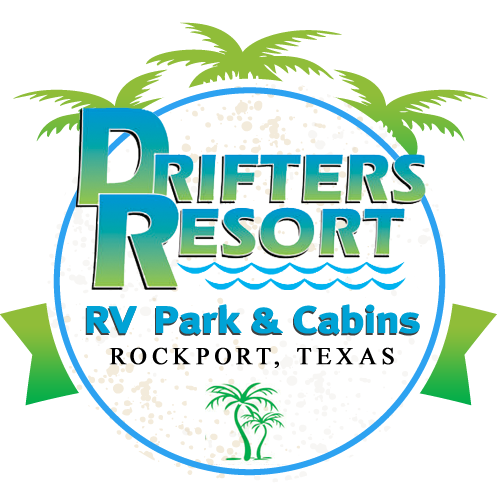 Location
4401 Hwy 35 South,
Rockport, TX 78382
Frequently Asked Questions
What time is Check-in / Check-out
Check-In Time ~ 3:00PM
Check-Out Time ~ 11:00AM
What are the park amenities?
• Rentals are equipped with kitchenware, linens, towels, etc.
• Cable, hair dryer, iron and ironing board in each cabin.
• Picnic tables and barbecue grills at select cabins.
• Short drive to Cove Harbor Marina and Conn Brown Harbor.
• WI-FI
• Swimming Pool
• Ice For Sale
• On-site Laundry facilities
• Fitness Center
• Climate-controlled/handicap accessible bath house and restrooms
• Boat parking
What are the reservation requirements?
Deposit required on weekly reservations. 3 Night Minimum Stay & Deposit Required on Holidays. *Cancellations and Reservations are NOT taken online.
Please see our Rates & Policies page for full details.
Are pets permitted?
Yes, for RV Sites only. *Pets are not permitted in any of the rental units.
Drifters Resort RV Park & Cabins reserves the right to refuse service to anyone whose pet is not considered suitable for the serenity or safety of the park. All pets should have updated vaccination records available should they be requested. The city of Rockport requires that all pets be on leash when outside. We currently do not accept breeds considered dangerous and aggressive, including but not limited to Dobermans, Rottweilers, Chows, Pit Bulls, German Shepherds, Akitas, Malamutes, Siberian Huskies, Wolf Hybrids, Cane Corsos, or Presa Canarios.