Cabanas
Cabana with Two Beds Floor Plan
This is a perfect place for families with a budget. Everything is super clean, the pool is great for kiddos.  And they provide everything you need to make a meal – plenty of towels. Porches are awesome for sitting and having a drink and just unwinding after a long day at the beach.
Bungalows
Bungalow (with Queen-sized Bed & Sleeper Sofa) Floor Plan
Beautiful park with great amenities and an incredibly friendly staff!
Cabins
Cabin with Three Beds Floor Plan
We have stayed at the Drifters Resort a few times. We love this place because it is so close to both Rockport and Port Aransas. It is very close to a public ramp for our boat. There is plenty of room for you vehicle and boat at the place of your choice. It has very nice cottages, bungalows, etc that are nice and clean. The staff is very friendly and professional.
Cottages
Cottage (with 2 Double Beds & Queen Sleeper Sofa) Floor Plan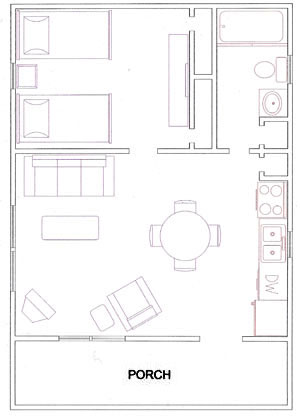 The pool was clean and well kept as well as the grounds … We would stay here again for sure!